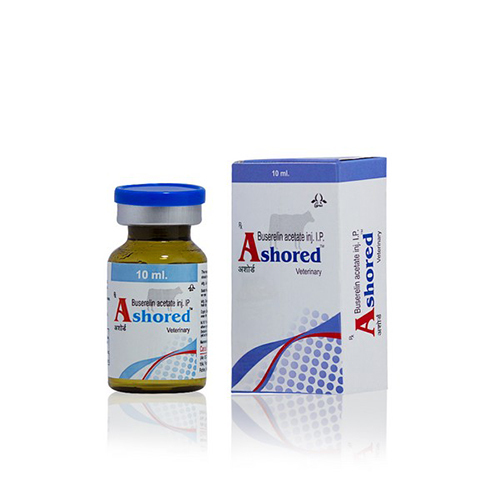 Ashored (Buserelin injection)
Product Description
Composition
Each ml. contains :
Buserelin acetate
Equivalent to Buserelin I.P. : 4 mcg.
Benzyl alcohol I.P. :10 mg. (As preservative)

Indication
Delayed ovulation & anovulation
Anoestrus, abnormal oestrus cycle
Ovarian cyst, nymphomania
Improvement of conception rate (at the time of A.I.)
Oestrus synchronisation
Improvement of pregnancy rate (11-12 days after A.I.)
Improvement of post-partum fertility
(10-15 days post calving)
Dosage & administration: Ashored is preferably given by intramuscular injection. However, the intravenous or subcutaneous routes may also be used if desired. Syringes and needles should be freshly sterilized.
Presentation : 2.5 ml. & 5 ml. packs are available with syringe, cotton swab, needle and tray.
Contact Us
Plot No. 75, Sector-3, HSIIDC, Karnal, Haryana, 132001, India
Phone :+918045479666