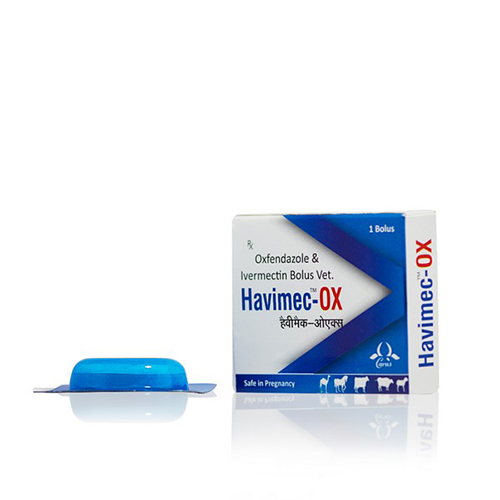 Havimec - OX
Product Description
Composition
Oxfendazole 2200 mg. & Ivermectin 100 mg. Bolus
Indications
Gastro intestinal roundworms, lungworms, tapeworms & heartworms like haemonchus placei, Trichostrongylus axei, Bunostomum phlebotomum, coopria spp., Nematodirus spp., Cooperia, oesophagostomum radiatum, Dictyocaulus viviparous, Ostertagia ostertagi, Moniezia spp., Microfilaria and ectoparasites like ticks, grubs lice, mange etc. Havimec- OX is also effective against whipworms.
Safety
Oxfendazole is well tolerated and free of side effects at therapeutic doses even when administered to young, sick or debilitated animals. In ruminants and horses it does not cause toxic effect at 10 times the recommended dose. Sheep tolerate 20 times the therapeutic dose.
Pregnancy
Oxfendazole & ivermectin both are safe in pregnancy.
Dosage and administration
The drug is administered orally.
Horse: 10 mg. per kg. b.wt.
Cattle: 4.5 mg. per kg. b.wt
Sheep: 5 mg. per kg. b.wt
Swine: 3-4.5 mg. per kg. b.wt
Dog: 11.3 mg. per kg. b.wt For 3 consecutive days.
Poultry: 10 mg. per kg. b.wt
Presentation: 1 Bolus pack
Contact Us
Plot No. 75, Sector-3, HSIIDC, Karnal, Haryana, 132001, India
Phone :+918045479666