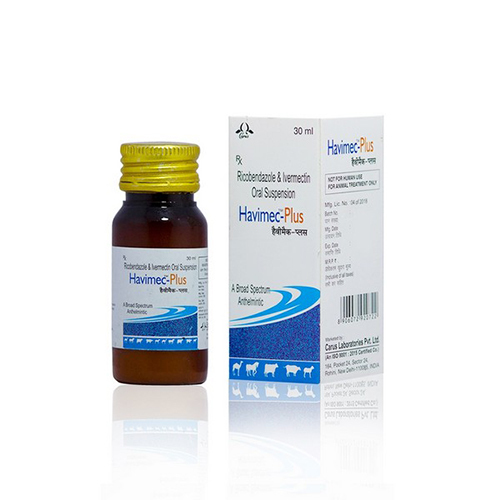 Havimec Plus
Product Description
Composition:
Each 5 ml contains:
Ricobendazole : 125 mg
Ivermectin IP vet : 5 mg
Excipients : q.s.
Indication
Gastro-intestinal roundworms : Bunostomum sp., Chabertia sp., Cooperia sp., Haemonchus sp., Nematodirus sp., Oesophagostomum sp., Ostertagia sp., Strongyloides sp. and Trichostrongylus sp.
Tapeworms

:

Moniezia

sp.

lungworms

:

Dictyocaulus

filaria

Control of adult liver fluke

:

Fasciola hepatica

and the treatment of chronic, but not acute, fascioliasis in sheep.
Ovicidal to round worm eggs.
Ectoparasites like ticks, grubs, lice, mange etc
Dosage & administration
Cattle: 60-90ml
Calf: 15-30ml
Sheep & goat: 5-10ml
The drug is administered orally
Presentation: 30 ml
Contact Us
Plot No. 75, Sector-3, HSIIDC, Karnal, Haryana, 132001, India
Phone :+918045479666