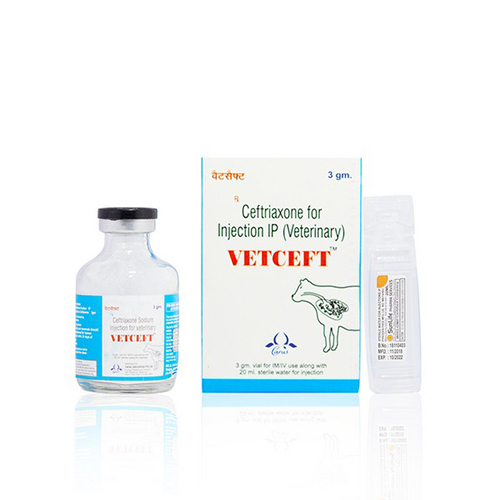 Vetceft (Ceftriaxone injection)
Product Description
Composition:

Each vial contains
Ceftriaxone Sodium (Sterile) IP equivalent to Anhydrous Ceftriaxone 3000 mg.
Direction for use Prepare solution by dissolving the contents of vial in 20 ml. sterile water for injection IP.
Indication Hemorrhagic septicemia, Bronchopneumonia, Nephritis, Cystitis, Endometritis, Metritis, Pyometra, Mastitis, Actinobacillosis, Osteoarthritis, Bacterial meningitis, preoperative prophylaxis, postoperative treatment & other bacterial infections susceptible to ceftriaxone sulbactam combination
Dosage and Administration 10-15 mg./kg. b.wt. depending on severity of infections through IM/IV route.
Withdrawal Period
Meat : Poultry and Mammals should not be slaughtered for human consumption within 24 days of treatment.
Milk : 3 days
Presentation: 3 gm. vial with WFI
Contact Us
Plot No. 75, Sector-3, HSIIDC, Karnal, Haryana, 132001, India
Phone :+918045479666